When
a smart guy puts their mind on something, big things can happen for all of us!
The BWB story began when Mr. Wilson Stracanholi used to follow his mom's routine, Adoração Garcia Stracanholi, affectionately called Dona Dora, used to produce homemade chocolates in her house, so that she could contribute with the family income.
Observing the productive process, Mr. Wilson, who had just graduated from the university majoring in electrical engineering, was thinking about ways to help his mother have more flexibility and make the overall process easier for her while she went about making her chocolates by molding.
His mother was using the only, until today, known method to make chocolate products and especially shells, to mold the chocolate, known as "acetate molds". It's the same classic, simple molds that we have today that require 4 or more chocolate layers and a lot of going back and forth to the stove and fridge, until you reach the desired wall thickness for your shell.
In 1998 he came to the final project and patented what is today popularly known as "silicone" mold. Once this revolutionary product was developed, Mr.Wilson applied his knowledge and built his own machinery, he built a small production room, only 20 square meters, and counted with the support of his wife Elaine to begin the molds production that were a lot more practical for his mother and also hoped to contribute to for other people that looked for an alternative income working with Chocolate.
The rest is history and as one thing brought the other, they developed the process machinery and finally the designs and marketing and got to today where they have a portfolio of more than 1350 products, 5000 customers in 22 countries and more than 22000 square meters of facilities along with the Culinary Center "Adoração Garcia Stracanholi", in honor of the family's Matriarch, where they give free classes to their customers and they test their new products before they take them to the market!
Let's see some of the designs we liked and imported
We strongly believe that they will help you, the professional, to produce better and more beautiful products, faster and with lower and completely controlled production costs! Who does not want this?
For the home user too, Chocolate was a difficult project to undertake, mainly because of the time it took to make a shell until now. With the new BWB molds this time is reduced by about 4/5ths and can now be a beautiful, educational, fun and above all delicious experience for all family members!
Let see together some of the 122 designs we liked and imported for you:
Easter!
Since Easter is coming up and BWB started from Easter products let's start with these too
Bunny Egg with Ears!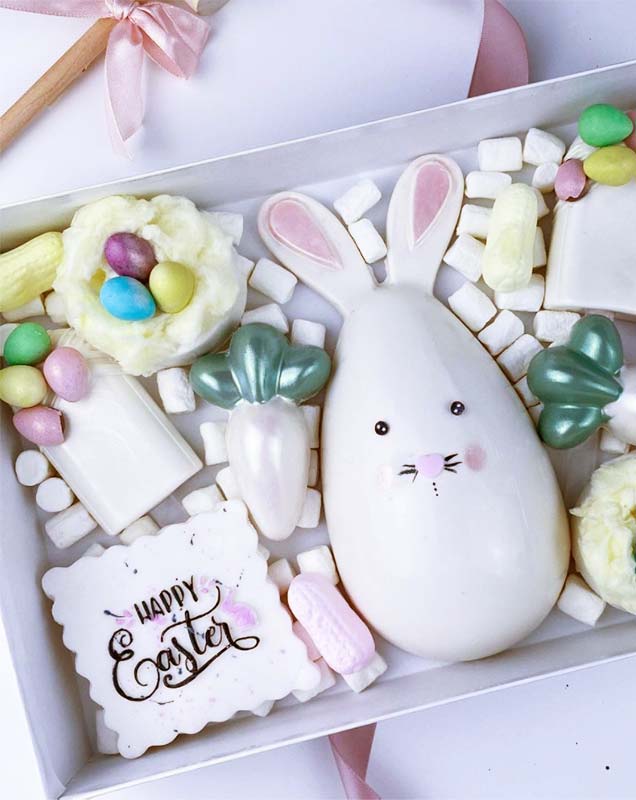 This is one of the 3 different geometric Easter Rabbits we carry! Find the rest, don't let them get away!!!
Geometric Seating Rabbit (with the addition of Sugarpaste)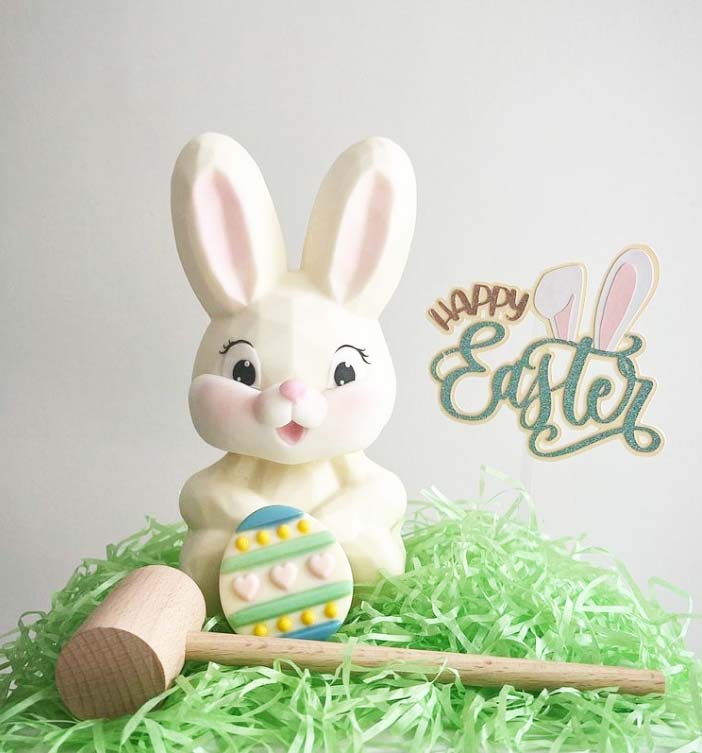 Little Bunnies in 3 molds with different sizes! Absolutely perfect!
and the Rabbit in ...pieces...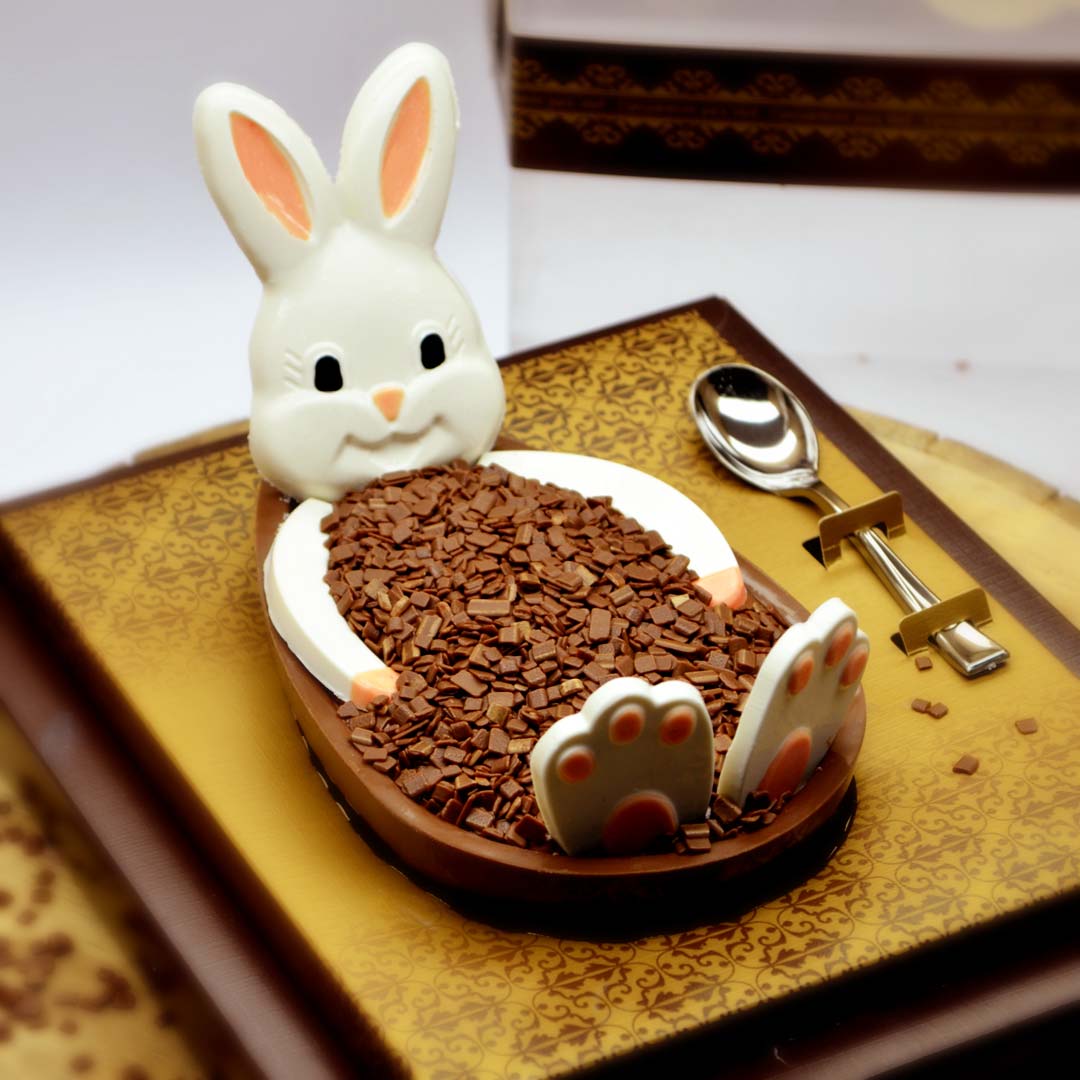 But what makes such a big difference?
But before we move on, let's see what makes BWB molds so special?
A few words about BWB mold types:
BWB has 2 basic types of molds:
The Simple Molds and Special Triple Molds that have revolutionized the field of chocolate decoration, creating remarkable decorations and a fanatical following! Just follow @BWBEmbalagens on instagram for more!
There are sub-types that pertain to the size of the molds whereas the larger ones with outer mold dimensions 36x24cm. and the initials SP (Semi Professional) in the product name are mainly aimed at professionals who want to produce several pieces per cycle, while the smaller ones 23x18cm that are addressed to individuals.
Simple molds are much cheaper to purchase and better suited for chocolate items that are solid like decorations and certain bonbons and have a relatively simple shape, small size. Half shells can of course be made in the usual way pouring and freezing layer after layer (usually 4-5) until the desired wall thickness is achieved.
The Special Triple Molds are ideal for use with comlex shapes that would require a long time to create otherwise and would not be made effectively with a simple mold as well as for creating chocolate shells, such as the 2 half shells that constitute an Easter egg. They facilitate the whole process significantly since you only need to heat and freeze the chocolate once to create a shell as opposed to the simple mold that several times are be needed to get to the necessary chocolate thickness that is required to make a good shell, especially in larger sizes!
Special Triple Molds are making the process much faster and economical and are producing excellent polished shells with even thick walls all around thus rendering them more measurable in a production environment as well.
The Special Triple Molds consist of 3 parts, as shown in the following images and videos.
Each triple mold has the base into which you pour your warmed up chocolate up to the horizontal line, which is designed to indicate the ideal amount of chocolate needed to produce your shell in the right thickness and without it spilling out the sides of the mold, thus saving you time and trouble. Then place the silicone insert that consitutes the middle layer into the base and the chocolate. This part creates the inner shape of the shell, and in turn will be pressed with the 3rd part (the lid) which will transfer the chocolate evenly across the whole mold in the correct thickness and shape it evenly throughout the shell.
This way you will always achieve a perfect shell, shiny on the outside and with ideal thickness, easily and quickly like a pro!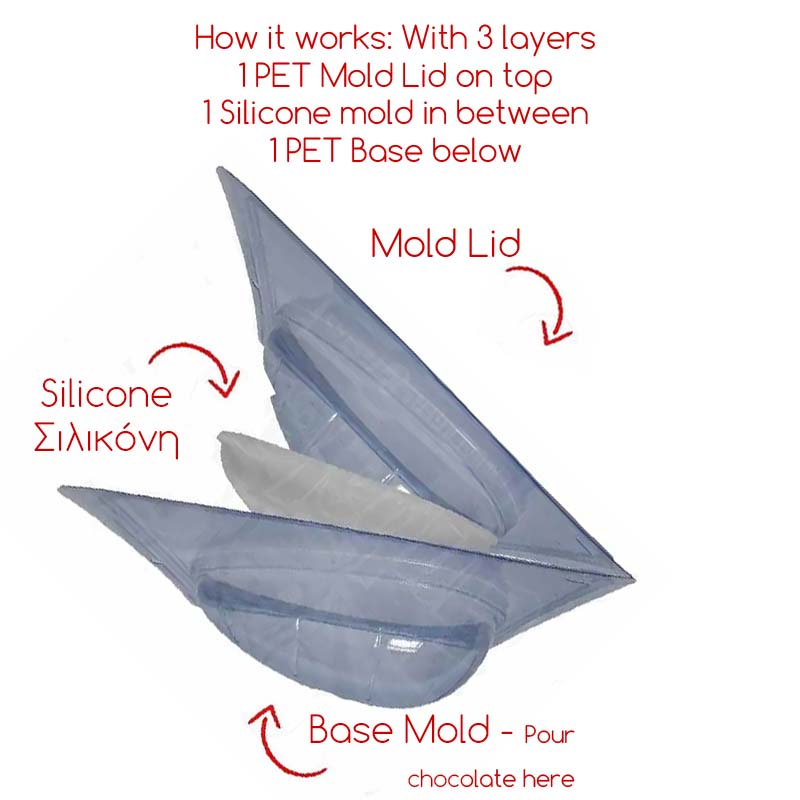 The making process in Video & photos: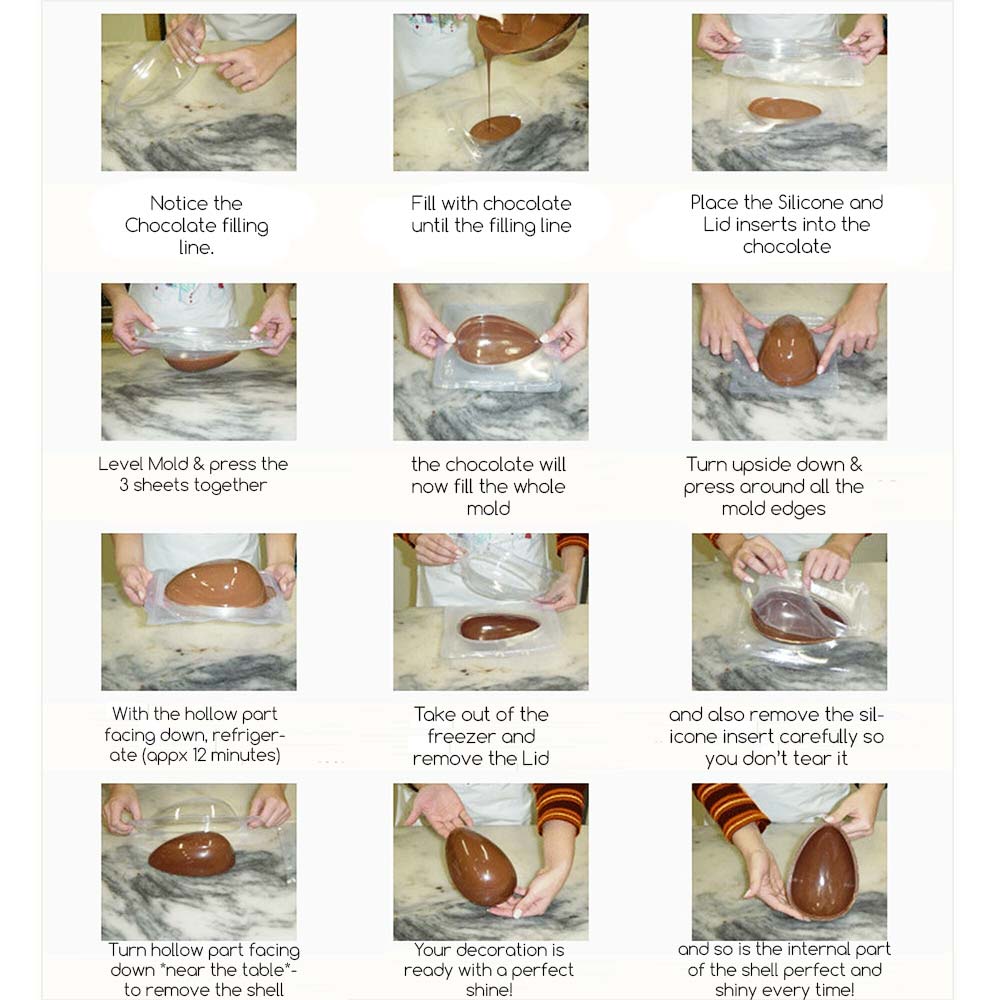 Easter Eggs
Here the range is even bigger! Apart from the Egg with Rabbit Ears above, we have all egg sizes from 20-500gr and in various designs, from the incredible children's POP It eggs to modern beautiful designs. Enjoy
Modern Egg Bar Mold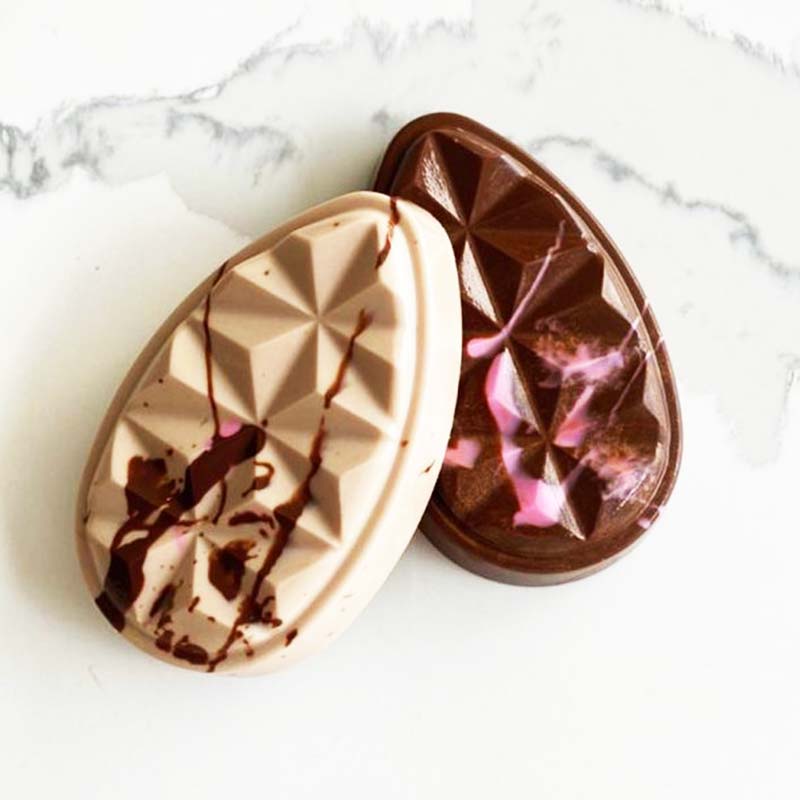 Mold for smooth eggs in many sizes, see them all by clicking on the photo!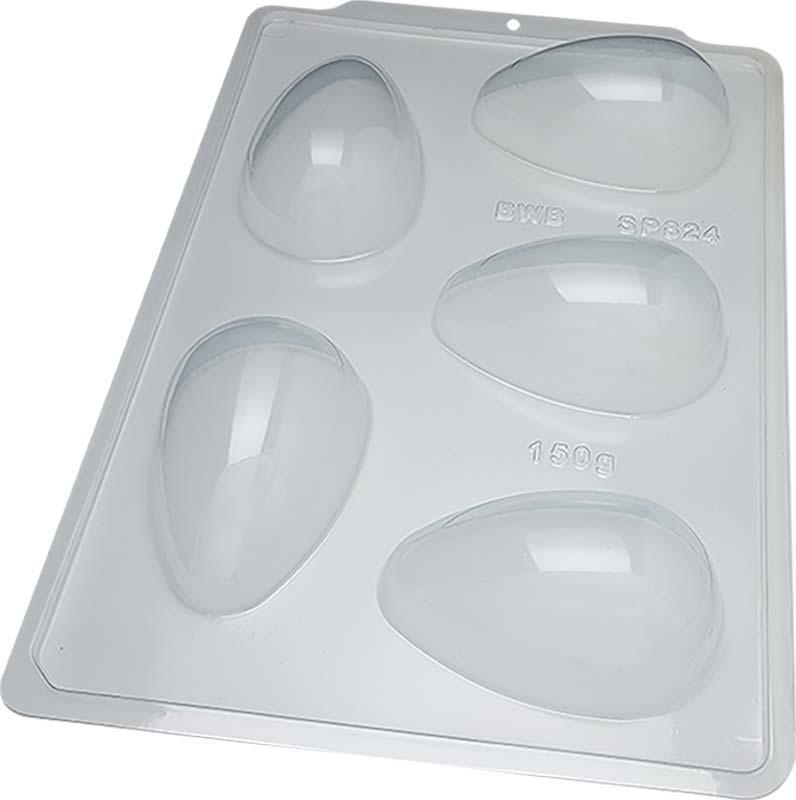 An army of cute Choco-chickens! In 2 different sizes too!

Fun Pop it Large Egg (There is a smaller one with 2 egg cavities as well!)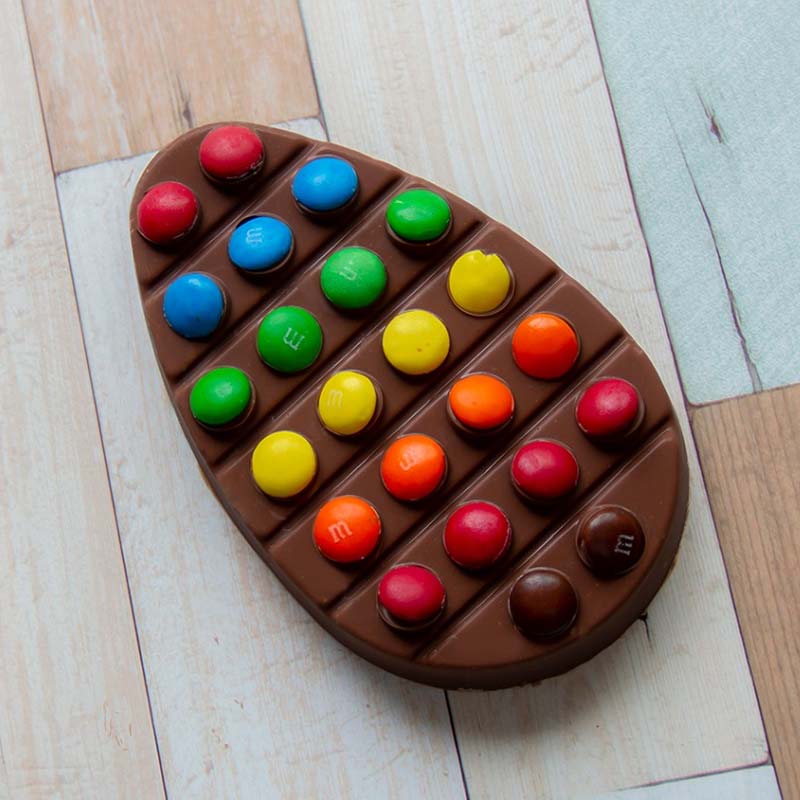 aand much more!
Let's not forget some of the most popular ones!
POP it Molds in different sizes and designs! Round discs, milkshakes, Unicorns and many more at your service! Make, Take Photo, Uopload, sell! Success for sure!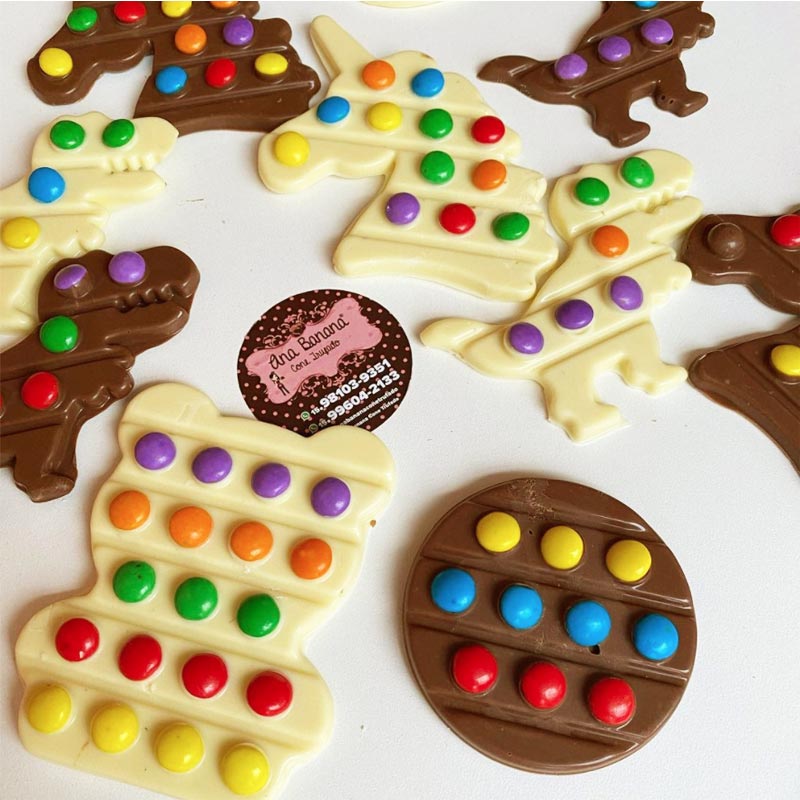 Even whole cake wall pop it surfaces!!!
These super popular teddy bears we have in 3 sizes!

Search for codes

BWB9910, BWB9984, BWB99350 while for the BWB9910 we will have a box with an insert like the one in the photo below starting from the beginning of April 22 in 4 different variations w
hile we will have inserts for about 10 codes, many of which are spheres (Yes to make Chocolate Bombs!)
See the 3 designs below.
Also available in plain white like 1st picture below:
some irresistible ones like the Baby Llama!!!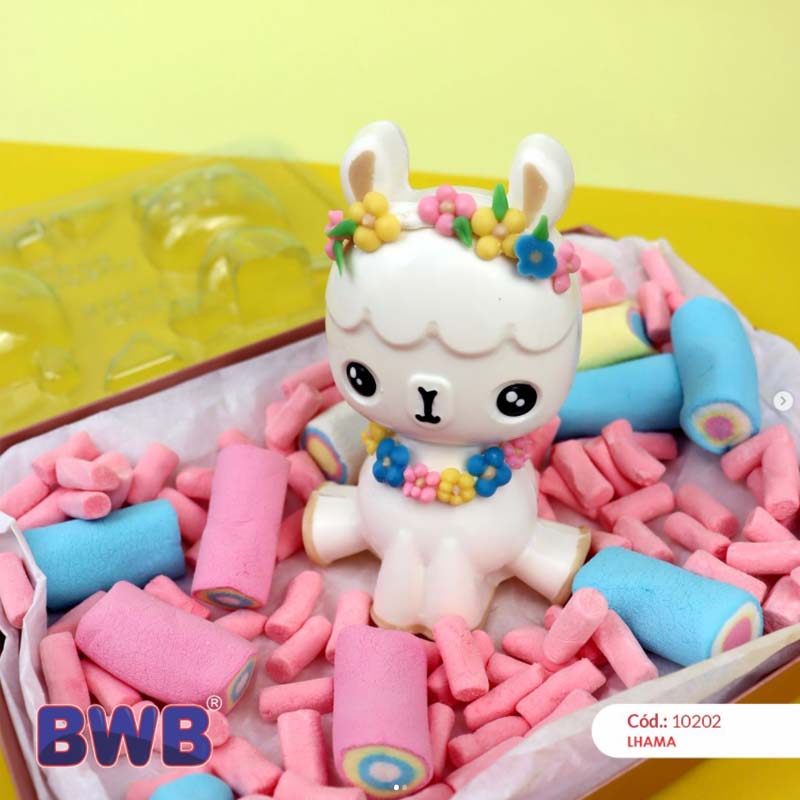 Geometric Hearts in 4 different sizes and variations as well as many geometric and normal spheres!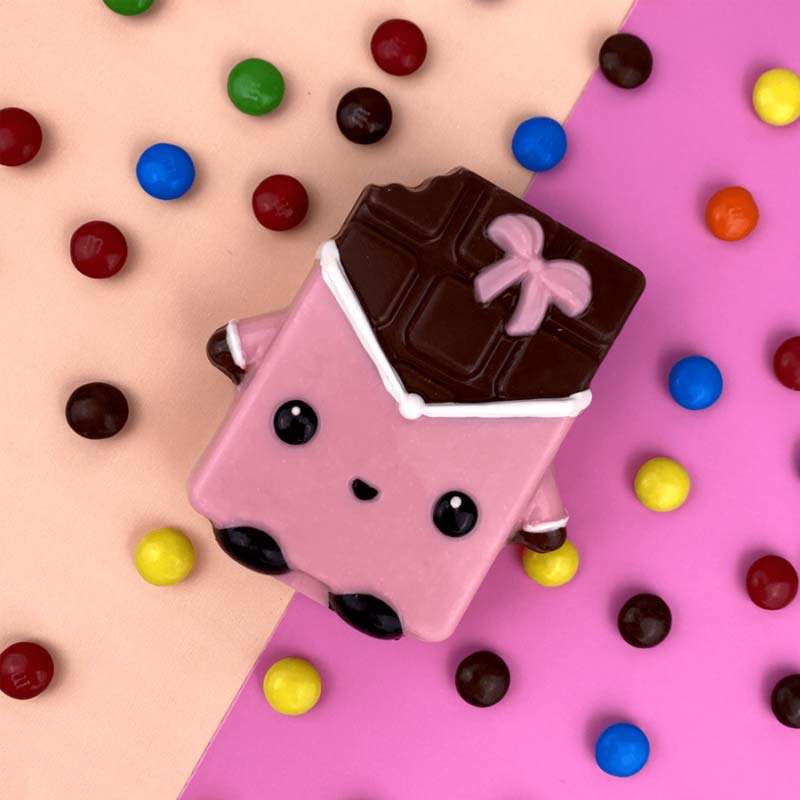 and for the end some Christmas ones to keep the engines running :-)
Surface for Christmas (or not) Chocolate Houses
Sweet baby Reindeer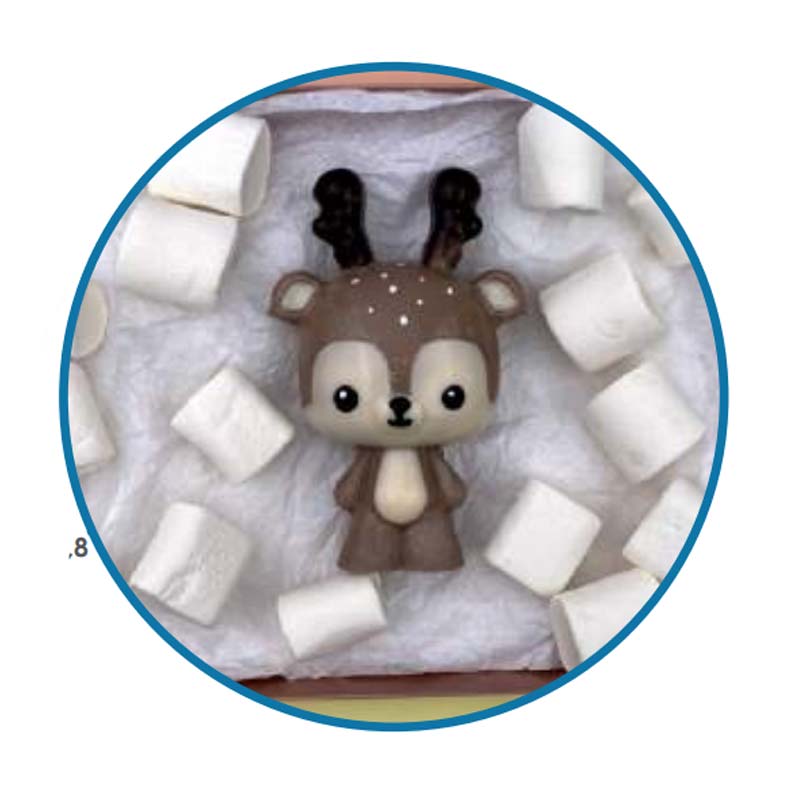 Whole cake wall ultra modern surfaces!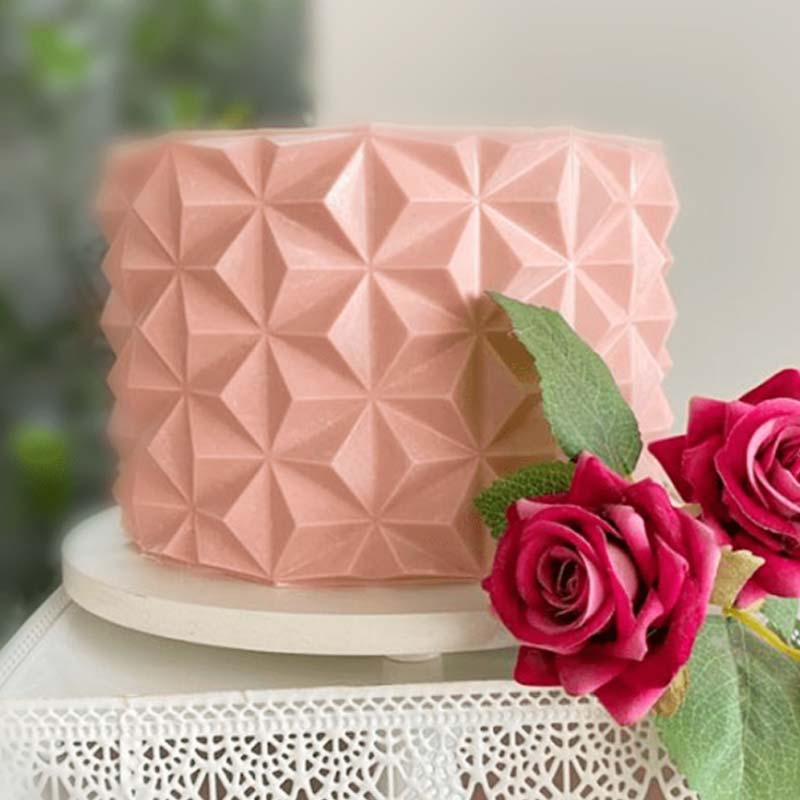 It goes without saying that there is a whole range of bonbon, truffle and Chocolate Bar molds available, waiting to be discovered by U!! Just press the button at the end of this article and Voila!
and we left for last some smart and practical Chocolate tools for different uses like specialized spatulas and bowls and the amazing Clear Cake Pop Sticks in various colors!!!
General Advice